About Jack of Arts Studios
Be an Artist at what YOU do!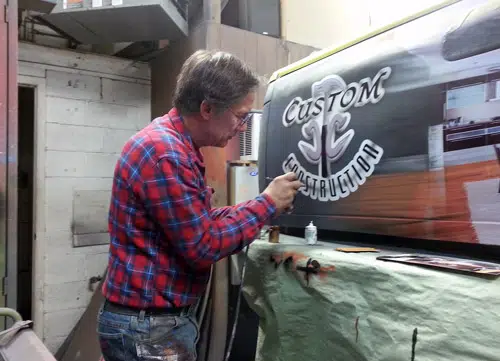 My uncle Chuck has always been the musician and artist of the family as far as I am concerned. One of my fondest childhood memories is of visiting his "studio" which was in a ramshackle old barn in Marriottsville, Md. There were kittens to play with as wells as a bunch of old cars and trucks with colorful paint jobs to look at. I can still remember the smell of the old garage and drying paint. To my little 4 year old mind the place was magical! However, Chuck was an artist long before my time.
Charles Dewey Gamber III was born in 1956 to Shirley and Dewey Gamber of Ellicott City, MD. Shirley tells me that even as a boy Chuck had the independent spirit of an artist. His interest in cars and trucks came naturally and Chuck was always drawing and sketching on whatever was at hand. In high school Chuck took an interest in printing and silk screening. He even built his very first 5 color shirt press and dryer out of junk yard parts. This first segway into the art business he called Charlie's Jack of All Trades which made mostly t-shirts and decals. Charlie's Jack of All Trades would also do any type of freelance work Chuck could get, anything from mowing lawns to auto body work and welding. He graduated from Mount Hebron High School in 1973. After high school it was onto the Maryland Institute College of Art where Chuck continued his study of printing. While attending MICA Chuck tells me he rented a room in what he called the "hippie house" where his fellow artist roommates introduced him to the fiddle, which he taught himself to play and has since added the mandolin to his musical talents. Chuck would be the first to tell you that art applies to every facet of life. Artist is not a title, it's a whole lifestyle!
Soon the "hippie house" was sold and Chuck found himself in need of a new place. He was able to rent an old, mostly fallen down barn from a friend that would serve as not only a roof over his head but a studio for what would become Jack of Arts. The barn was on a street that where dump trucks drove up and down all day moving rock from a nearby quarry. Marriottsville Road is also a well-known inter-county route for truck traffic between Howard and Baltimore Counties. Initially, Chuck would use his screen printing background to make decal lettering for the passing trucks and then the requests for original painted artwork start rolling in. And so, Jack of Arts was born! Chuck put together a sign kit which included enamel sign paints and a variety of tools and brushes, and before long, he added airbrush artwork to his growing list of talents. Word of mouth advertising is what made Jack of Arts a thriving business. If you ask almost any local trucker where he got his mural or lettering he will probably tell you "Jack, in Ellicott City." Chuck lived and worked out of the old barn for six years and then moved to West End in historic Ellicott City in 1983 where you can find him painting and working to this day!
Even artists have to adapt to changing times and technology. In 1987 Jack of Arts added CAD decal cutting and in 2007 added digital graphics, printing and laminating to the long list of custom options that are offered to our customers. Joe started with J.O.A. in 2001 just keeping the shop swept up and organized. Chuck says "Joe is always willing to jump in and help with whatever needs doing" and finding someone that fits into such a low key, artistic environment and can still get the work done is hard, but Joe came along and fit in almost right away. Eventually he took on the prep work and applying decals in addition to answering the phone, running the office and helping customers with layout and design. Now Joe is the backbone of the graphic arts part of the business. He handles graphics and lettering from layout and design to application. And often Chuck and Joe collaborate on what we call hybrid projects which are a mix of graphics and paint or airbrush art. If you call the shop today chances are Joe will answer. Chuck says Joe is an invaluable part of J.O.A. and can't imagine doing it all on his own again.
Don't worry, "Indispensable Joe" is not still slaving away behind the shop broom, there is some young blood in the shop too. Chuckie Gamber is Chuck's son. He is here in the shop most days doing the cutting and prepping. He also helps with sign work, sanding, and finishing. Chuckie has some experience in metal working and takes care of most of the minor bodywork that comes in.
The future of J.O.A. is bright and colorful! We hope to expand to a second location and to continue spreading the gospel of "be an artist at what you do!"